About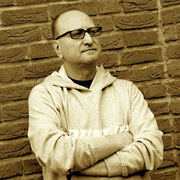 1956: Made in germany.
1974-1978: Unterricht in klassischer Gitarre.
Lessons in classical guitar.
1976: Beginne autodidaktisch mit bundlosem Bass.
Start teaching myself fretless bass.
1978: Erkenntnis: Der Bass ist mein Instrument! :-)
Conclusion: Bass is my instrument.
1976-1986: Erste Schritte in diversen Amateur- und semiprofessionellen Bands.
First musical steps in several amateur and semi-professional bands.
1986: Erstes professionelles Engagement als Bassist beim »Circus Roncalli.
First professional job as a bassplayer at german Circus "Roncalli".
1987-1990: Live- und Studiojobs Rock, Pop, Jazz, Gala...
1990: Ende der professionellen Musiker-Karriere!
End of my professional musical carreer.
Diagnose: Tennisarm/tennis elbow (Epicondylitis humeri radialis).
1993: Nach über zwei Jahren Kuren, Mediakamentationen und Behandlungen schliesslich eine erfolgreiche Operation. Danke, Dr. Fuchs!
Finally a successful surgery after more than two years of curing and medicamentation.
1994-2000: Gelegentliche Sessions.
Occasional sessions.
2001: Nach Umzug ins Rheinland (Hennef) wieder aktiv im Musikgeschehen.
Moved to the rhineland (Hennef) and begin playing in bands.
2002-2006: "Midnight Blue", Modern Jazz.
Ostern/Easter 2005: »Aufführung Oratorium "Emmaus"
Performance of oratorio "Emmaus"
2008: »andernfalls, Deutschrock.
2011: Musical "Rent", zwei Aufführungen in Königswinter.
Two performances of musical "Rent" in Königswinter.
Sommer 2012: Auflösung von andernfalls.
The end of andernfalls.
Ostern/easter 2013: 4 Gigs in Afghanistan!
2013: Sessionbassist bei Gitarrist »Markus Schnurpfeil.
Session bassplayer with guitarist Markus Schnurpfeil.
Sommer/summer 2013: Bassmann bei »Carol Knauber.
Bassplayer with guitarist Carol Knauber.
Februar - Dezember 2015: Sub-Bassist bei »"OPA kommt".
Bassplayer with oldie coverrock band OPA.
Frühjahr 2016: Umzug nach Osnabrück
Moved to Osnabrück
2016 - 2017: Diverse Sessions
Session bassplayer
05/2017: Jazztrio (p, b,dr): First Touch
Joined jazztrio (p, b,dr): First Touch

Sie brauchen einen Bassisten?
Need a bassplayer?
Von ABBA bis Zappa, und alles dazwischen!
From ABBA to Zappa, and all in between!