»Zurück zu Referenzen/Back to references
2004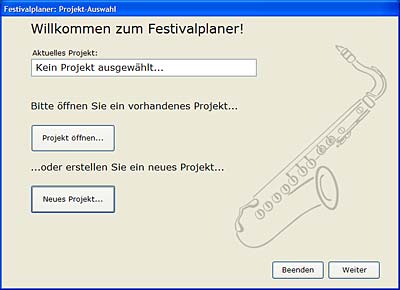 Haupt-Menü
Main menu
Programmierung und Gestaltung einer Software zur Planung eines Jazzfestivals
mit Übernahme der vorhandenen Stammdaten.
Development and design of a planning software for a swiss jazz-festival
including import of existing data.
Eingabe der Stammdaten von:
Musiker, Bands, Spielorte, Instrumente, Lieferanten, Leistungen.
Data entry:
Musicians, bands, locations, instruments, suppliers, services.
Zuordnung von:
Intrumente zu Musiker, Musiker zu Bands, Bands zu Spielorten.
Assignment of:
Intruments to musicians, musicians to bands, bands to locations.
Software: MetaCard, Runtime Revolution, Adobe Photoshop.
Version für Windows.
Version for Windows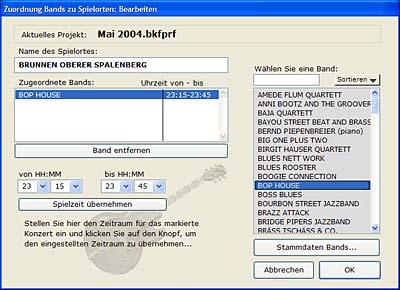 Zuordnung Bands zu Auftritten
Assignement bands to locations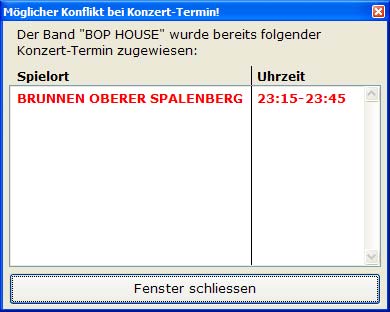 Alle Eingaben werden automatisch auf Plausibilität überprüft und
gegebenenfalls wird ein Hinweis auf eventuelle Konflikte ausgegeben.
All entries were proofed against existing entries and the user
will be alerted of possible conflicts e.g. overlapping events.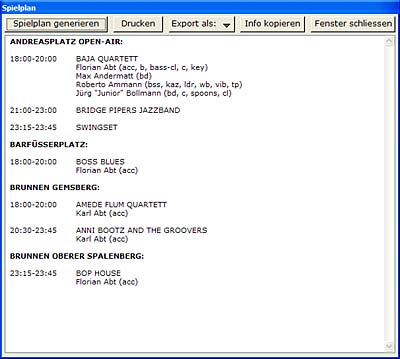 Generierung von:
Bandstammblatt, Bandvertrag, Beiblatt, Bandliste, Konfliktlist, Konzertliste, Spielplänen
Report creation for:
band info, contract, additional info, bandlist, playlists etc...